Hello viewers, Welcome to TOLLY FLICK. First, we are going to introduce ourselves. TOLLY FLICK, a page started with concept of sharing film updates ASAP, which are true and genuine. Sticking to our values we never encouraged any kind of false (or) controversial news. TOLLY FLICK is on Instagram from past few months, and we gained so much love & support from followers across the globe. We are so thankful to them and decided to expand us. This is one of the steps. Starting from today we going to start our website and share our views with you. We hope you support us on this platform also.
Here is our first article – 6 REASONS WHICH MADE AKHANDA A BIG HIT IN 2021.
We decided to start with this topic because AKHANDA played one of the crucial roles in pulling back audience to theatres massively post pandemic. After many years we saw theatres with overflows, people going to theatres like a festival. Seeing this massive response, the success of it is termed as "AkhandaMassJathara". Even during covid frightening times, the way audience supported this film grabbed our attention. After introduction of OTT platforms, we saw many super hit big films finding difficulty to run successfully for 3-4weeks. But even after pandemic when OTT became a household name and audience are scared to watch films in theatres, Akhanda completed its 50Days run successfully in more than 100+ theatres, posting houseful shows across 7 weeks. So, we are coming with this.
In his 48 years of career, actor Nandamuri Bala Krishna is well known for his versatility of roles selection. An actor who did more than 100+ films, for the first time came up with "Aghora" role.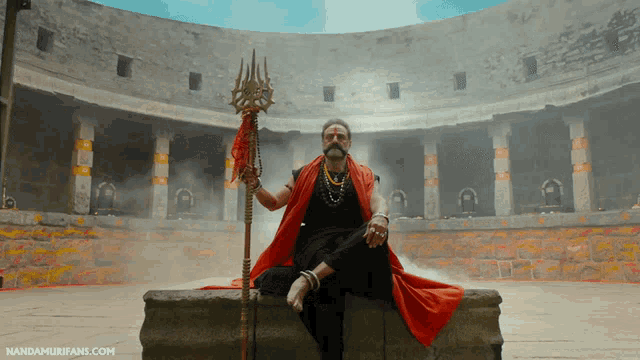 Not only fans, audience and rare movie goers also just loved his performance in Aghora character, and the other character was tailor made for him. His looks and costumes in two roles were very new and surprised audience.
The way he performed in both roles was exceptionally brilliant and became one of the key factors in making movie success.
Music director S.S.Thaman, the man in red hot form. His songs and especially re-recording was a huge asset for the film. To speak about his RR impact, for the first time we have seen instances where speakers in theatres were damaged because of sound.
Thaman stated that he worked over a month for Akhanda RR which is highest in his film career. "Jai Balayya" song was also an added commercial advantage. With all his hard work and love he put in; he became one of the key factors in making movie success.
Director Boyapati Srinu is well known for his commercial films, but this time he raised the bar and brought the extra element of nature to it. Addressing about harms/pollution what mankind is doing to nature, saying how nature responds to it with aghora character setup around, brought freshness on silver screen.
Along with this new point, he blended other emotions like sentiment, action, drama perfectly. A well packaged commercial story with social message helped to make this film a big hit.
Supporting cast in the film also played a prominent role in making film a grand success. Actor Srikanth portraying as antagonist for the first time did a very good job.
Actors like Pragya Jaiswal, Poorna, Jagapathi Babu, Nitin Mehta etc elevated movie with their talent and became one of the reasons for making movie a big hit.
Producer M. Ravindra (Dwaraka Creations) proved once again that he is a man of passion. Though his previous two films are with hero's who have less market, he spent more for upscaling the quality of films.
This time he is bringing a movie from blockbuster duo NBK & Boyapati, as expectations will be high, for best quality of output, he did not compromise and made film on high budget with great production values.
Special mention for his commitment to release film in theatres first, not in any OTT platform.
Post-Pandemic there is a void for high octane mass action entertainers. Audience is bored off watching OTT content. While people eagerly waiting for a film with big action episodes, Akhanda perfectly filled that gap.
Boyapati Srinu along with Stunt Shiva master & Ram Laxman masters designed action sequences on huge scale which were loved by masses to core. These also helped in making movie a Big Hit.
NOTE: While there are multiple reasons for movie becoming hit, these are just our point of view.
We do not generalize our statements.